The Company pays a new record dividend of more than 11.4 million euros.
At the close of the first semester 2009, HISPASAT reports net profit of 29.5 million euros, a 55.0 percent increase over the same period last year. The improvement in HISPASAT´s results is mainly due to a boost in revenue and in maintaining an efficient structure, tailored to current circumstances and compatible with the projects underway.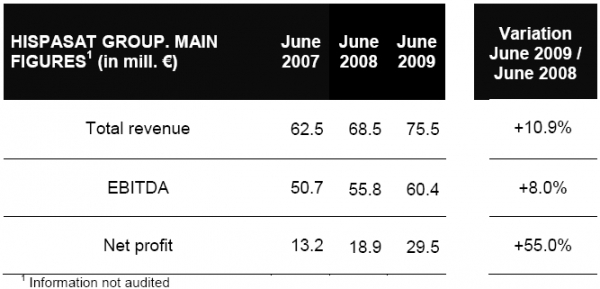 Total revenue as of 30 June 2009 was 75.5 million euros, an increase of 10.2 percent compared to the same period, prior year. Of total revenue, 74.1 million euros (98.1 percent) were derived from space capacity revenue, of which 49.8 million euros (67.2 percent) were generated by HISPASAT S.A. and the remaining 24.3 million euros (30.8 percent) by the Group´s subsidiaries in Brazil. Operating expenses registered for this period of 2009 were at 15.1 million euros, a 18.6 percent improvement with respect to budgeted figures for first semester of 2009.
As a result of this, consolidated EBITDA as of 30 June 2009 was 60.4 million euros. This amount represents an improvement of 8.0 percent, with respect to that obtained in the same period in 2008. EBITDA margin at the close of the first semester was 80 percent.
HISPASAT Group
Evolution of main magnitudes first semester (2007 –2009)
(in millions of euros)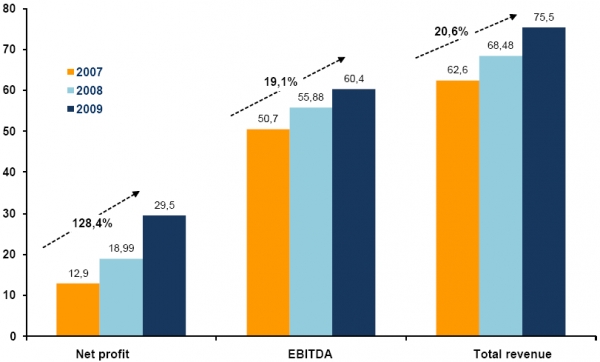 Improvement in dividend payout
The results for 2008, and the solidity of the foundation upon which the Group´s growth is built for coming years, has allowed HISPASAT to pay an historic dividend of more than 11.4 million euros. This amount, an increase of 28.1 percent over the payout for the previous fiscal year, allows maintaining a highly profitable dividend and having the necessary resources available to continue with the investment process included in its Growth Plan which will double its space capacity and will strengthen its competitive position in its target markets.