MADRID, 19 April 2018. Today, HISPASAT, the Spanish communications satellite operator, has celebrated an extraordinary general shareholder's meeting in which the purchase and sale of company shares has been agreed upon corresponding to the acquisition by Abertis and the CDTI, proportionally to their share of the company, of 33.69% of the capital, which was owned by Eutelsat. As a result, Eutelsat's representatives -Rodolphe Belmer, Michel Azibert, Ariane Rossi, Almudena Arpón de Mendívil and Edouard Silverio- have left the Spanish operator's Board of Directors.
The new board members nominated to represent Abertis are: Aristóteles Auñón, Martí Carbonell, José Luis Viejo, Laura Grau and Sebastián Morales.
A new board member, Marta Casas, has also been added to represent Abertis and to replace Francisco Reynés, who presented his resignation on 6 February after leaving his position as the head of Abertis.
After the previously cited changes, HISPASAT's capital is comprised in the following manner: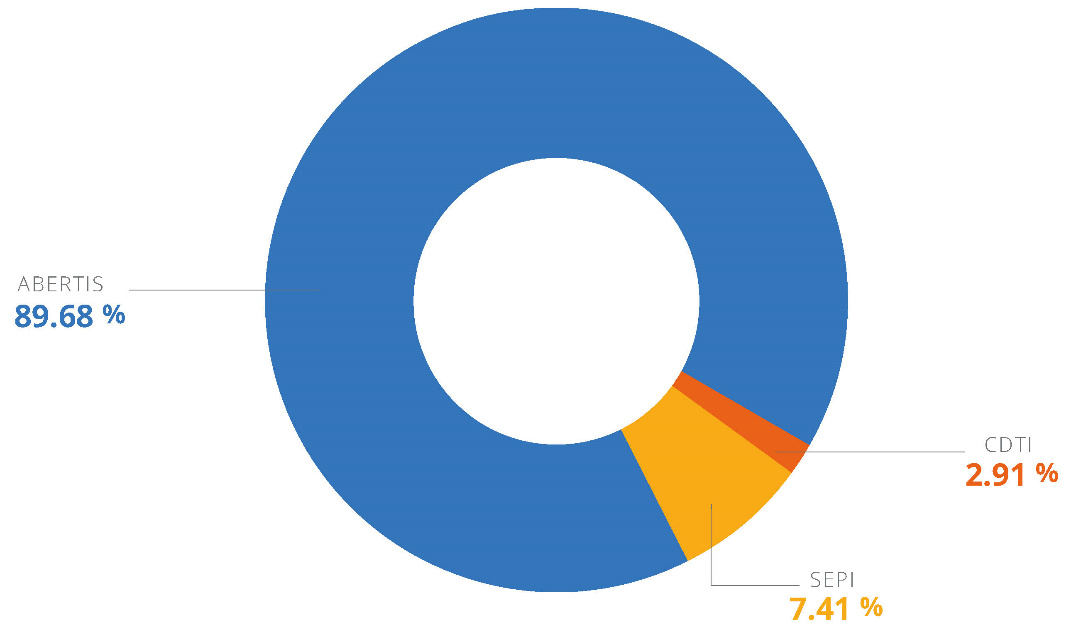 HISPASAT's Board of Directors, as of today, 19 April, is made up of the following members:
President of the Board: Mrs. Elena Pisonero
CEO: Mr Carlos Espinós
Board Members: Mr Francisco José Aljaro
Mr Aristóteles Auñón
Mr Lorenzo Avello López
Mr Martí Carbonell
Mrs. Marta Casas
Mr Josep Maria Coronas
Mr Juan Carlos Cortés Pulido
Mr Jordi Fernández Montoli
Mrs. Laura Grau
Mr Jordi Lagares Puig
Mr Sebastián Morales
Mrs. Virginia Navarro Virgós
Mr Miguel Ángel Panduro Panadero
Mr Alberto Puentes del Barrio
Mr Joan Rafel Herrero
Mrs. Montserrat Tomás Gil
Mr José Luis Viejo
Non-executive Secretary and Legal Adviser: Mr Pedro Ramón y Cajal Agüeras
Non-executive Vice Secretary: Mr Javier Folguera Fernández
About HISPASAT
HISPASAT is comprised of companies that have a presence in Spain as well as in Latin America, where its Brazilian affiliate HISPAMAR is based. HISPASAT is a world leader in the distribution and broadcasting of Spanish and Portuguese audiovisual content, and its satellite fleet is used by important direct-to-home television (DTH) and high-definition television (HDTV) digital platforms. HISPASAT also provides satellite broadband and connectivity services which include Internet access, mobility and the extension of mobile networks, in addition to other added value solutions to governments, corporations and telecommunication operators in America, Europe and North Africa. HISPASAT is one of the world's largest companies in its sector in terms of revenue, and the main communications bridge between Europe and the Americas.
Press contact:
María Felpeto – tel. +34 91 710 25 40 – mfelpeto@hispasat.es / comunicacion@hispasat.es
Download press release